Interview with Horror Actor Aaron Poole
INTERVIEW WITH ACTOR AARON POOLE
WHEN I watched horror movie The Last Will and Testament of Rosalind Leigh, two things struck me – both as a horror writer and an audience member: Number one, how a single character can literally carry the entirety of a story (if the character is written and acted well), and number two, how subtlety can sometimes create immense fear – often more so than explicit or visual horror. This film had it all – and it didn't surprise me that the star of the film, Aaron Poole, brought the film to life with such intensity – he had done the same in the cult horror favourite, The Conspiracy. Poole, simply, appears made for roles such as these.
An actor rich with depth, complexity and authenticity isn't easy to come by, but Poole seems to be an actor that has mastered his technique to such a standard that he literally breathes life into the roles in which he steps into. Speaking to Poole about his acting career, I wanted to know how he became involved – where it had all began. I wasn't surprised that it started at a young age:
I was sent to a musical theatre camp by my mom when I was 13.  I couldn't sing or dance but she convinced me I'd like it.  As it turned out, I was cast in only acting parts in their singing shows and didn't have to do much dancing at all.  I discovered that all the pretty girls at the camp went to one high-school in Toronto, so I came back and convinced my Mom that moving to the city to attend this arts high-school was an even better idea than the camp.   I clung to that hope for a couple years and eventually moved out of my town of 100 people to go to that high-school in the big city. I was 16, which felt old enough to be on my own. I wasn't completely right about that! It wasn't until much later that I started to actually love acting it for what it is.  My grade 12 teacher, who studied at the actors studio in New York, first taught me the importance of digging into craft and respecting the history of our craft.
Finding his door into an acting career in adulthood, Poole clearly drew on his learned skills and personal life experience. Landing his first role in a motion picture in 2007 (This Beautiful City), Poole went on to star in as many as twelve feature films and several television series, including Flashpoint and Strange Empire. I wondered what challenges Poole found in acting, and discussed his approach to these challenges:
For me, it is most challenging to protect the actual craft of acting from the infatuations and impulses within the business of acting.  The aesthetic themes that run through our contemporary story telling can begin to infect my choices with short-hands of thought and analysis.  For the purpose of finding the right actor, filmmakers (theatre makers are guilty of this too!) can often rely on trite metaphors, bad comparisons, and simplistic physical descriptions.  In my attempt to "win" the job and provide people with "what they want", I can sometimes forget that my own instincts about character and script are often best to follow.  I think a lot of people struggle with this.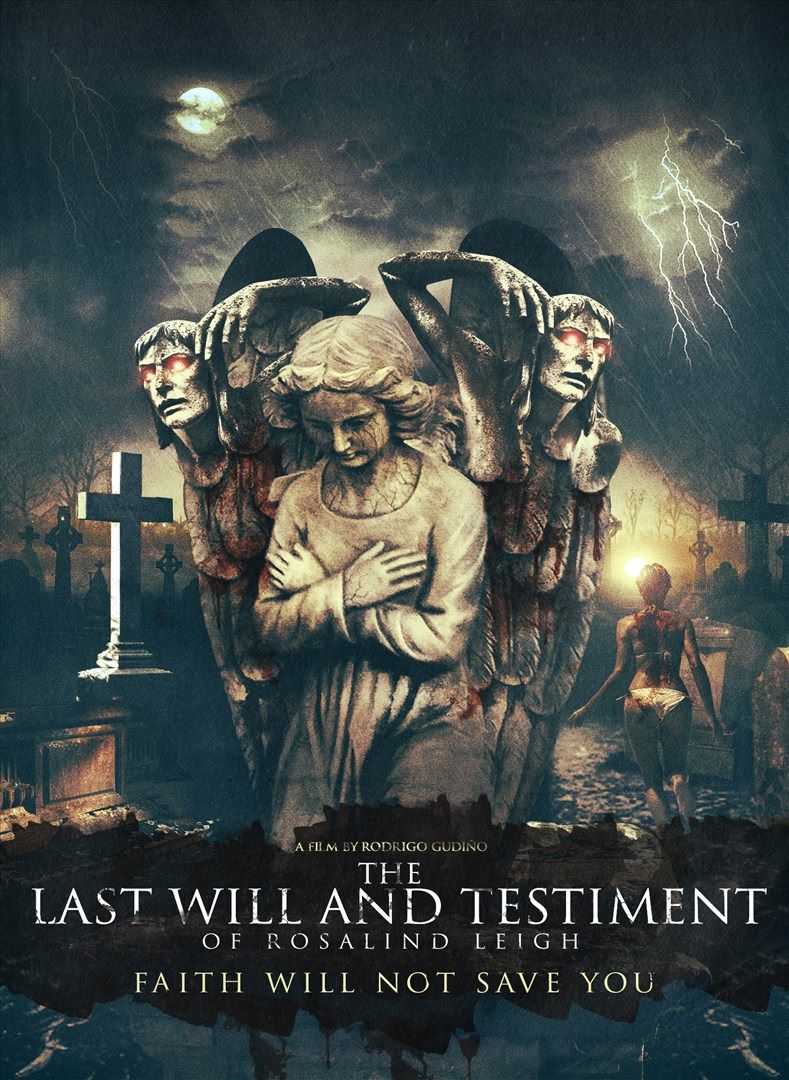 Whatever the specific challenges Poole faces in his craft, he has mastered the portrayals of playing dark, complicated and disturbed characters. In both The Conspiracy and The Last Will and Testament of Rosalind Leigh, Poole brings fourth a performance that is not only unsettling to watch, but is also made uncomfortably real through the authenticity of his performances. I asked Poole about his approach to playing such dark characters:
I like trying to break the "heroic plan" apart because I think that the generally accepted plans in our stories and our world need questioning.  Our stories tend to reflect what the "good ideas" are in our politics and our lives but many of us have always had a natural doubt of this status quo.  I've discovered that the darkly, psychological characters get to rigorously demand more. They're the ones that get to be genuinely curious.
As somebody who is both an avid horror fan and a horror author, I  first became aware of Poole's work through The Conspiracy (a dark, taught thriller about one man's investigations into conspiracy theories), and this film has become one of my favourites. I asked Poole about his impression's of this film;
I love The Conspiracy. I don't qualify that. Which is rare. Haha!  I'm flattered and excited by the way horror fans have claimed it as one of their own.  When we made it, Chris MacBride knew he was crafting a story about our modern dread. We didn't realize the level of dread would be experienced at the level of horror.  I love this. 
I couldn't resist asking – does Poole subscribe to any conspiracy theories himself?
I am entirely skeptical of ANY information I receive through typical news channels.  For current events, I work out whatever version of the truth is available from a patchwork of independent journalism, corporate news, and Twitter.  Ridiculous but true.  

 

As for the famous theories concerning conspiracies, I consider any group of influential people who meet and make decisions for others without consent as a conspiracy of sorts.  So, yeah, with that broad a catchment, I'm over-subscribed. Haha I live in conservative Canada, how can you NOT be paranoid??
With a solid and impressive back catalogue of acting credits to his name, I wondered what Poole was working on next. I asked him about his current and future projects – and fans will be pleased to see we can expect a lot more from him in the future:
I've been "big game hunting" in Los Angeles for the first time.  Reading really exciting scripts and meeting influential filmmakers so a lot of my attention has been on being the new guy in a new market this past year.  I have another western film coming out, after some delays, that I did with both Kiefer and Donald Sutherland as well as Brian Cox called Forsaken. And my TV series Strange a Empire continues to baffle people here in North America.  It's on some netflix and various channels.  Or you can steal it.  But then you have to talk about it. Good or bad.   That's my piracy rule. You don't pay? You have to talk about it. 
The Conspiracy and The Last Will and Testament of Rosalind Leigh have become favourites within the horror community. I wondered what films were Poole's favourites?
Off the top of my head? The Celebration; Heat; Blade Runner; The Mission; Last Year at Marienbad; Babe; Babe-Pig in the City; la Lute…. So many…
Finally, to wrap up our exchange, I asked what Poole would advise others who are keen to break into acting and the film world. His wisdom? "Finally, any advice for actors starting out in the business?
Read read read.  Meditate.  Consider your own feelings.  Keep going.
To watch a film and be moved, frightened, or inspired by it, one has to identify with a character that feels believable – this allows the audience to suspend the fiction before them, and instead feel invested and dragged into the story themselves. The work in television and film that Poole has so far undertaken proves this – a great actor creates a great and believable story that the audience responds to.
T
o read more about Aaron Poole, visit the IMBd website for full filmography:
AARON POOLE IMBd
Thanks to Aaron for his time, answers and willingness to share his thoughts.
Interview by Fiona Dodwell