FILM REVIEW:
The Strangers: Prey at Night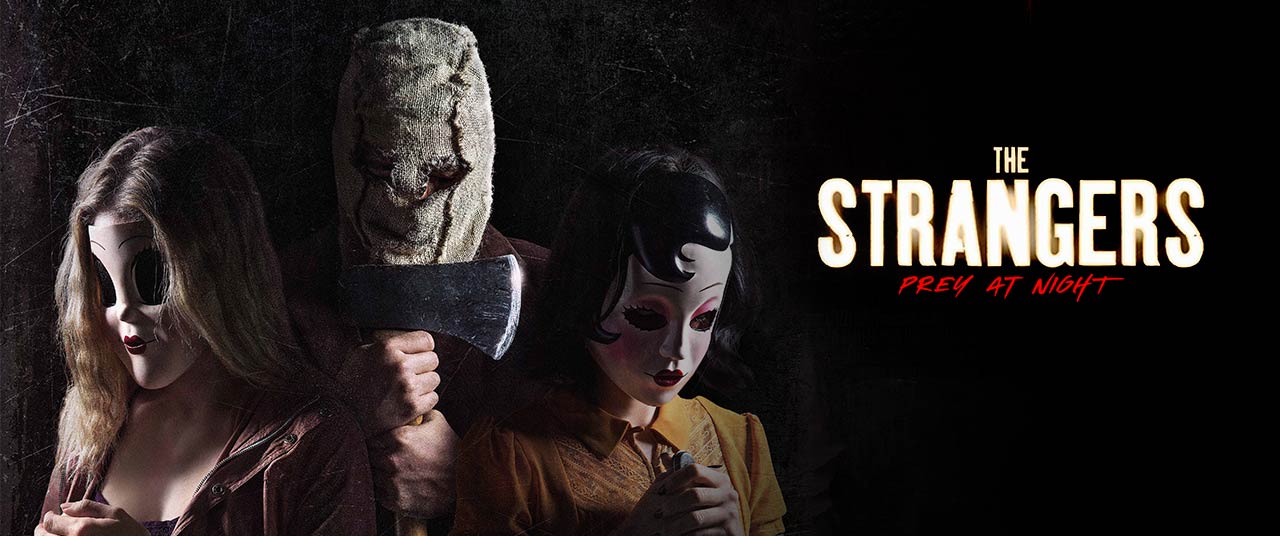 TODAY saw the UK release of The Strangers Prey at Night, directed by Johannes Roberts and starring Christina Hendricks, Martin Henderson and Bailee Madison. Already unleashed in the USA, (where it grossed $25 million to mixed reviews) I was eager to catch this film when it hit my local cinema. My verdict? I loved it!
The story of The Strangers sequel (although you could see this film as a 'stand-alone') focuses on a family who have travelled to a holiday trailer park for a long weekend away. Once there, they become stalked, chased and terrorised by three masked killers. The movie had a nostalgic feeling, giving memories of the Jason franchise and the Halloween series because of the look, feel, title font and soundtrack. It gives a nod to the 80s era, portraying the old-school horror feel with authenticity.
One thing this film had in buckets was heavy tension – it felt dark and foreboding from the beginning, carried along by the sinister looking masked assailants and the creepy, locked-down holiday park. The cast were brilliant – from the beginning the script writers and director managed to create a family that you could not only easily relate to but also care about. This made the deaths and stalkings even more awful to watch.
I felt The Strangers: Prey at Night captured something more disturbing than the first film  – the death scenes and chase scenes were particularly brutal, for a seasoned horror fan like myself, I even had to look away a couple of times.
I loved the cast, the setting, the soundtrack, the death scenes: this film had it all. By the end of it, I had to take a deep breath and take a moment to adjust. The movie was very dark and sinister, which will hopefully please most horror fanatics.
I rate The Strangers: Prey at Night 5 stars out of 5. I highly recommend catching this movie whilst it's in the cinema – it really breaks out on the big screen.