This section contains interviews from actors, authors, and leading paranormal figures.
---
INTERVIEW WITH ACTOR AARON POOLE
WHEN I watched horror movie The Last Will and Testament of Rosalind Leigh, two things struck me – both as a horror writer and an audience member: Number one, how a single character can literally carry the entirety of a story (if the character is written and acted well), and number two, how subtlety can sometimes create immense fear – often more so than explicit or visual horror. This film had it all – and it didn't surprise me that the star of the film, Aaron Poole, brought the film to life with such intensity – he had done the same in the cult horror favourite, The Conspiracy. Poole, simply, appears made for roles such as these.
An actor rich with depth, complexity and authenticity isn't easy to come by, but Poole seems to be an actor that has mastered his technique to such a standard that he literally breathes life into the roles in which he steps into. Speaking to Poole about his acting career, I wanted to know how he became involved – where it had all began. I wasn't surprised that it started at a young age:
I was sent to a musical theatre camp by my mom when I was 13.  I couldn't sing or dance but she convinced me I'd like it.  As it turned out, I was cast in only acting parts in their singing shows and didn't have to do much dancing at all.  I discovered that all the pretty girls at the camp went to one high-school in Toronto, so I came back and convinced my Mom that moving to the city to attend this arts high-school was an even better idea than the camp.   I clung to that hope for a couple years and eventually moved out of my town of 100 people to go to that high-school in the big city. I was 16, which felt old enough to be on my own. I wasn't completely right about that!

It wasn't until much later that I started to actually love acting it for what it is.  My grade 12 teacher, who studied at the actors studio in New York, first taught me the importance of digging into craft and respecting the history of our craft.
Finding his door into an acting career in adulthood, Poole clearly drew on his learned skills and personal life experience. Landing his first role in a motion picture in 2007 (This Beautiful City), Poole went on to star in as many as twelve feature films and several television series, including Flashpoint and Strange Empire. I wondered what challenges Poole found in acting, and discussed his approach to these challenges:
For me, it is most challenging to protect the actual craft of acting from the infatuations and impulses within the business of acting.  The aesthetic themes that run through our contemporary story telling can begin to infect my choices with short-hands of thought and analysis.  For the purpose of finding the right actor, filmmakers (theatre makers are guilty of this too!) can often rely on trite metaphors, bad comparisons, and simplistic physical descriptions.  In my attempt to "win" the job and provide people with "what they want", I can sometimes forget that my own instincts about character and script are often best to follow.  I think a lot of people struggle with this.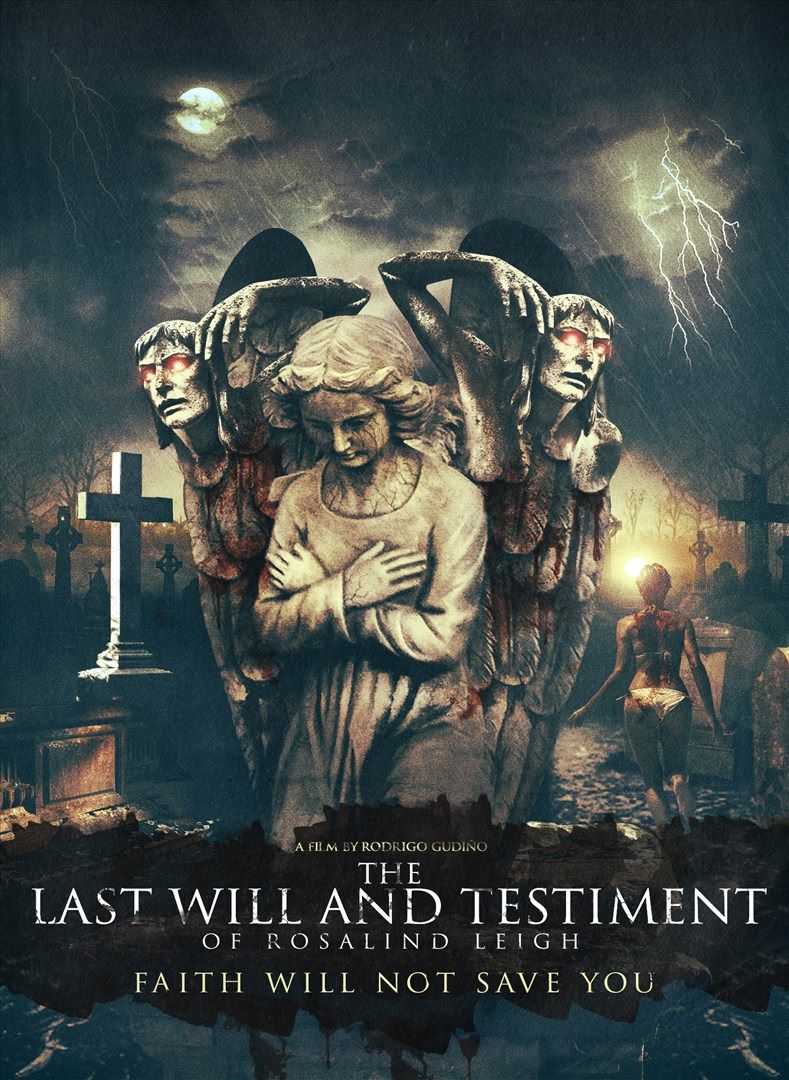 Whatever the specific challenges Poole faces in his craft, he has mastered the portrayals of playing dark, complicated and disturbed characters. In both The Conspiracy and The Last Will and Testament of Rosalind Leigh, Poole brings fourth a performance that is not only unsettling to watch, but is also made uncomfortably real through the authenticity of his performances. I asked Poole about his approach to playing such dark characters:
I like trying to break the "heroic plan" apart because I think that the generally accepted plans in our stories and our world need questioning.  Our stories tend to reflect what the "good ideas" are in our politics and our lives but many of us have always had a natural doubt of this status quo.  I've discovered that the darkly, psychological characters get to rigorously demand more. They're the ones that get to be genuinely curious.
As somebody who is both an avid horror fan and a horror author, I  first became aware of Poole's work through The Conspiracy (a dark, taught thriller about one man's investigations into conspiracy theories), and this film has become one of my favourites. I asked Poole about his impression's of this film;
I love The Conspiracy. I don't qualify that. Which is rare. Haha!  I'm flattered and excited by the way horror fans have claimed it as one of their own.  When we made it, Chris MacBride knew he was crafting a story about our modern dread. We didn't realize the level of dread would be experienced at the level of horror.  I love this. 
I couldn't resist asking – does Poole subscribe to any conspiracy theories himself?
I am entirely skeptical of ANY information I receive through typical news channels.  For current events, I work out whatever version of the truth is available from a patchwork of independent journalism, corporate news, and Twitter.  Ridiculous but true.  

 

As for the famous theories concerning conspiracies, I consider any group of influential people who meet and make decisions for others without consent as a conspiracy of sorts.  So, yeah, with that broad a catchment, I'm over-subscribed. Haha I live in conservative Canada, how can you NOT be paranoid??
With a solid and impressive back catalogue of acting credits to his name, I wondered what Poole was working on next. I asked him about his current and future projects – and fans will be pleased to see we can expect a lot more from him in the future:
I've been "big game hunting" in Los Angeles for the first time.  Reading really exciting scripts and meeting influential filmmakers so a lot of my attention has been on being the new guy in a new market this past year.  I have another western film coming out, after some delays, that I did with both Kiefer and Donald Sutherland as well as Brian Cox called Forsaken. And my TV series Strange a Empire continues to baffle people here in North America.  It's on some netflix and various channels.  Or you can steal it.  But then you have to talk about it. Good or bad.   That's my piracy rule. You don't pay? You have to talk about it. 
The Conspiracy and The Last Will and Testament of Rosalind Leigh have become favourites within the horror community. I wondered what films were Poole's favourites?
Off the top of my head? The Celebration; Heat; Blade Runner; The Mission; Last Year at Marienbad; Babe; Babe-Pig in the City; la Lute…. So many…
Finally, to wrap up our exchange, I asked what Poole would advise others who are keen to break into acting and the film world. His wisdom? "Finally, any advice for actors starting out in the business?
Read read read.  Meditate.  Consider your own feelings.  Keep going.
To watch a film and be moved, frightened, or inspired by it, one has to identify with a character that feels believable – this allows the audience to suspend the fiction before them, and instead feel invested and dragged into the story themselves. The work in television and film that Poole has so far undertaken proves this – a great actor creates a great and believable story that the audience responds to.
T
o read more about Aaron Poole, visit the IMBd website for full filmography:
AARON POOLE IMBd
Thanks to Aaron for his time, answers and willingness to share his thoughts.
Interview by Fiona Dodwell
——————————————————————————————————————-
INTERVIEW WITH 'ROBERT' ACTRESS, SUZIE FRANCES GARTON
INTERVIEW WITH ACTRESS SUZIE FRANCES GARTON
IN AUGUST OF 2015, I watched a movie directed by Andrew Jones. It was Robert, a horror story centred on a haunted doll. I'm passionate about horror, in both film and literature, and I was intrigued by this release. I enjoyed it – however one thing that shone out to me from the film itself was the strong and captivating performances from the cast. As a whole, the cast were perfect for the roles they were playing, bringing about a tightness and authentic feel to the story. If a film about a possessed doll sounds unbelievable or far-fetched to you, then this is a testament to the acting within the film, because Suzie Francis Garton and the rest of the actors made this story feel all-too unsettlingly real.
Impressed and in awe of Garton's acting in Robert, I watched A Haunting at the Rectory, a paranormal release also directed by Jones. Here, too, I found myself captivated by not only the story within the script, but at Garton's performance. She breathed a life to her role, carrying the film with the cast to another level. This film was more than a ghost story – it was very character driven, and I couldn't have imagined any other actor bringing these roles to life.
I was interested to find out more about Garton's work, her attitudes to acting and in particular to the horror genre, and she kindly agreed to an interview.
CAN YOU TELL US A BIT ABOUT YOURSELF, AND HOW YOU BECAME INVOLVED IN ACTING?
So I actually spent a long time in the TV industry. I worked in Children's TV for a while, then ran a couple of studios. It was a wonderful, crazy time – but the acting bug never left me. The whole time I was juggling theatre groups, singing lessons, workshops. My singing teacher recommended a drama school that I could attend around work; it was there that I truly learnt about the process of acting and fell in love with it. I graduated from there with a distinction, and from there things sort of snowballed.
 was working on a huge, high profile TV show when I got the call offering me the place at the Royal Central School of Speech and Drama. It meant training full time, so I had finally reached the fork in the road. There was only one decision to make of course: it's immensely hard to get into Central, so I knew it was a once-in-a-lifetime chance. It was awe-inspiringly tough there – drama school at that level tests you physically, personally and emotionally. But it was wonderful. I'll never forget the pride I felt in the moment we all threw our caps into the air as we graduated. Then, of course, the hard work really begins!
WHAT HAVE YOU FOUND THE MOST CHALLENGING ASPECT OF ACTING IN THE FILM INDUSTRY? ANY SURPRISES?
I think my years in the TV industry prepared me for most aspects of a life in film. The hours are long, sometimes there are night shoots, the work is sporadic and most of the industry is self-employed – to people who have a regular job, this basically means you're unemployed! – they just don't understand it.
The level of physical discomfort is something to get used to – I didn't see that coming! Performers often have to wear costumes which are completely inappropriate for the actual temperature – this actually happens more often than it doesn't – largely due to pretending it's a different time of year than it actually is, for continuity reasons and so on. Sometimes you can wear thermals under the costumes – often you can't. Essentially an awful lot of it comes down to mind over matter – you have to zone it out, it can't affect the performance. It's still a ridiculously small price to pay for how wonderful the job is.
I'D LIKE TO TALK ABOUT YOUR ROLES. LET'S START WITH ROBERT. WHAT WAS YOUR EXPERIENCE OF WORKING ON THIS FILM?
I loved working with the team on 'A Haunting at the Rectory' so I was very excited to collaborate with them again. What especially drew me to 'Robert' was the fact that my character has Schizoaffective Disorder – it's a little known illness, but for want of a better description it's a cross between Bipolar Disorder and Schizophrenia: sufferers get the mood highs and lows, but also the auditory and visual hallucinations. Often they end up on a best-fit cocktail of medication for anxiety, mania and/or psychosis – it doesn't always fit, and there are side effects – depression, lowered energy and sex drive.
Her illness means that Jenny can never be entirely sure whether what's happening in the house is real or symptomatic – which begs the question, which is more frightening? This sort of challenge is a gift for an actor. With Jenny being an artist, I was able to explore the character through painting. I researched bipolar and schizophrenic art – there are common themes. All the artwork you see in the film was the work I produced during this preparatory period, and once I moved away from using existing ideas and just let 'Jenny' paint, I was shocked at what started to emerge. I haven't been able to paint like that since, so that's weird.
FIlming 'Robert' was a wonderful experience, despite a pretty grueling schedule of long days filled with high-energy scenes – exhausting stuff, but exhilarating. Flynn, who played our son in the film, was fantastic – a great little actor and he had the most impeccable manners. Due to the regulations about working with children, we had less time with him than the adults, so for many of the close ups of me talking to him, I'm actually having a rather intense conversation with an off-camera teddy bear!
We were in the most beautiful location in Saundersfoot, South Wales. There were some dream-like shots that we wanted to get around the coast to use the stunning landscape, but were prevented from doing so by time, permit restrictions, and weather. I would go for a walk along the beach every dawn, to clear my head and prepare for the day's shooting. I love the ocean, I always find it sort of 'resets' me.
DID THE CHUCKY AND ANNABELLE FILMS INFLUENCE YOUR THINKING? WERE YOU CONSCIOUS OF THEM WHILST FILMING?
I think what those films tap into, really, is the childhood fantasy that our toys come alive when we're not looking. It's that, taken to its darkest extreme. It's the killer you've invited into your home, and let your children cuddle as they fall asleep at night. When you think that through, it's horrendous.
I purposefully avoided watching Annabelle and Chucky while I was working on Robert. You can't compare projects like that (even though audiences inevitably will); we weren't aiming to copy anything else. It is its own animal, and you have to work within the parameters you have – with budget, with time, all that. From my point of view, whatever the subject matter and whatever is already out there, it's really best to just concentrate on the character. In this case, the point really was "what is real, and what is not?" – it became about perception.
During my prep, I mainly watched films in which creatives were navigating mental health issues and conflict in their marital relationships – The Hours, and Pollock were good. The only horror I watched during that time was The Babadook – which I felt had relevancy as they achieved so much on a relatively low budget, and – as with Robert – there is the question of whether the demons are within or without. Essie Davis is so wonderful in that, really inspirational. She definitely should have been Oscar nominated: it's unbelievably tough to produce that kind of performance.
YOUR CENTRAL CHARACTER IN ROBERT EXPERIENCED SOME EXTREMELY UPSETTING MENTAL AND PHYSICAL ISSUES. HOW DID YOU FIND EXPLORING THIS IN YOUR ROLES?
Sometimes it's a real adrenaline rush. The scene in which I'm screaming at the doll, for instance, was wonderful. It felt quite animalistic, somehow. The worst one by far was the argument in the hallway – I hated filming that. I had to be so angry and frightened, and that's a revolting combination to have pulsing through the body. Andrew gave Lee and I individual direction so we couldn't be sure what the other was going to do, to make it raw and real. I trust them both implicitly, and I knew the results would be worth the pain – and they are – but I really didn't enjoy that one at all, it was dreadfully upsetting.
You have to keep an incredibly level head – in this work you're digging around in some very complicated emotional places. Once all those feelings have served their purpose, we have to be able to discard them fairly quickly; to move onto a completely different scene, or just back into real life. That can be tough, depending on what you've just put yourself through. I'm usually OK after about five minutes, but I did a rape scene once and had to remove myself from society for about thirty minutes afterwards. You hear stories of actors flipping out, screaming at crew – I understand how that happens, but it's no good. It's imperative to keep an element of self-control; to stay grounded.
It's something I've learned to cope with – and sort of love. There's a certain beauty in exploring the human condition that way. To be honest, that's why most of us do it; it's fascinating work. It comes down to absolute empathy. You HAVE to put yourself there, as an actor – it's absolutely vital that you do.
They don't really teach you how to deal with that at drama school. They teach you to manifest, but they don't prepare you for the aftermath – you learn that on the job; find your own coping mechanisms.
IN A HAUNTING AT THE RECTORY, THIS FILM EXPLORES NOT ONLY THE PARANORMAL ASPECT OF THE STORY, BUT IT IS ALSO HEAVILY CHARACTER LED, SOMETHING THAT I ENJOYED, AND FOUND A PLEASING CONTRAST. WHAT WAS YOUR EXPERIENCE LIKE STARRING IN THIS FILM?
I'm so pleased you liked that aspect. I think it has upset some hardcore horror fans, that it's so character-led.. but actually, I think that's part of its beauty. It was the first film I did with Andrew Jones, and I loved the script right from the initial approach. It has the kind of scenes actors kill for. By all accounts the real Marianne was a handful. Of course it could have been a harsh 1930's judgement on a passionate woman – nevertheless, I was intrigued by this person who was described as a sexual maniac, a vivacious hostess prone to melodrama – how and why she chose to marry a vicar, substantially older than herself, and how she functioned in that relationship; compounded by the social confines of her time.
At a table read before filming started, between Andrew, Tom (Lionel), Lee (Frank) and myself, we agreed there was a real danger that audiences wouldn't like any of the characters, and therefore not care about what happens to them. It was essential that people could relate to them. We agreed to be very open and vulnerable with each other, on and off set. The three of us met every night after filming to work on our scenes for the next day, sometimes giving each other backrubs as we ran lines. The whole film is so intimate, we had to build that very quickly.
The production team were all completely delightful, actually. We all lived and worked in the house during shooting, and that could have gone horribly with the wrong personalities! – but you couldn't wish for a nicer group of people.
I adore the end result. I'm immensely proud of it. I do understand that it's not your average horror – but I love it, I think it's a really original, special film. I've never seen anything like it, anyway. And it's so beautifully shot – really visually lovely.
ARE YOU A FAN OF THE HORROR GENRE?
I worked at a large film studio for a time, and I was surrounded by special effects departments and workshops – I became very numb to all that: I'd watch a film and just see the special effects – the models, the fake blood, the prosthetics. What fascinates me more in the horror genre is when this really happened – the most terrifying stories are the ones founded in truth. Often the blood-and-guts effects in those films are fairly minimal, actually, and it becomes something more psychological. I watched The Exorcism of Emily Rose, and for several nights afterwards I was terrified if I was awake at 3am! – it really got into my head. It's the what-if-it-happened-to-me, isn't it? Facing our darkest fears – that's where horror films hook you in. We laugh at stories of ghosts and demon dolls because the possibility of their existence is something we're too frightened to give consideration to. But I've had some pretty extreme paranormal experiences myself over the years and, actually, anything is possible in this crazy world. Literally, anything. The truth is that our day to day experience is such a small part of the story.
That's partly why working with Andrew is such a joy – both projects I have done with him have been based on true events. I mean – check out the real Robert the Doll. It's horrific. And it's not just Robert – there's a bunch of the little critters, in little glass cases in museums all over the place. When I researched it was I shocked – I was like "This is a thing? -this is an actual thing?" I had a puppet hanging in my kitchen and it got unceremoniously dumped outside immediately. And that, in a nutshell, is why horror films work!
WHAT PROJECTS ARE YOU CURRENTLY WORKING ON?
I recently finished narrating a documentary TV series called "Half My Faith, All My Struggle", about dating in the British Muslim community. As for what's next – I've just been sent a feature film script to read, and I'm also working on an arthouse feature called 'The Smiling Man' – I am involved in the production side of this one, as well as performing in it. It's essentially about depression, but told via a fable – it's visually stunning, wonderfully written, and I'm very excited about it. I have to drown – slowly, through the course of an intense dialogue scene – so that's a first! I'm hoping I can hide a wetsuit under my costume to fend off the hypothermia.. otherwise it's back to the mind-over-matter trick
Thank you to Suzie for taking the time to answer my questions.
Photographs of Suzie Frances Garton are copyright of the photographer, Tony Hamilton.
---
INTERVIEW WITH HORROR DIRECTOR ANDREW JONES
ANDREW JONES IS MAKING A NAME FOR HIMSELF IN THE HORROR GENRE. Involved not just in directing, but also in scriptwriting and producing, his titles are gaining a following from fans of dark film. His filmography to date includes The Amityville Asylum, Night of the Living Dead: Resurrection, and his latest release, Robert.
As a big fan of horror films myself, I was drawn to his work, and wanted to find out more about the man himself – his work, his attitudes, his hopes for the future of horror.
CAN YOU TELL US A BIT ABOUT YOURSELF, AND HOW YOU BECAME INVOLVED IN THE FILM INDUSTRY?
My love of film began at the age of 5 when my parents would take me to a local VHS rental store in my hometown of Swansea. I was particularly struck by the lurid artwork of the horror films and would beg my parents to let me see them. They eventually relented on the condition they would watch the films with me and explain how the horror depicted on screen was not real and created by special effects. The first horror films they allowed me to watch were Wes Craven's 'A Nightmare on Elm Street' and Sean Cunningham's 'Friday the 13th'. Because the filmmaking process was explained to me I became very aware that a film was created by people behind the camera. I became fascinated with the concept of making movies.
I began my production company North Bank Entertainment with the intent to produce marketable low budget films utilising the same aesthetic as American producers Roger Corman and Charles Band. They have sustained long careers in an ever changing business by being responsible with their budgets and commercial with their concepts. Financing is always the toughest part of filmmaking so I knew that to stand a good chance of getting films made I had to keep the budgets low to reduce the risk for investors. I had some early experiences directing films that never got released so when I formed my company I wanted to work directly with distribution companies to ensure that the films I made had a place in the market. I was fortunate that the first film I produced secured worldwide distribution despite the miniscule budget, it had a theatrical run in UK cinema chain Cineworld as well as a DVD/digital release in quite a few countries. It also got picked up by Lionsgate in North America so I had a taste of dealing with people at a major studio level.
HAS YOUR EXPERIENCE OF WRITING AND DIRECTING SO FAR BEEN DIFFERENT TO YOUR INITIAL EXPECTATIONS?
I feel my writing and directing improves each time I make a film, I learn a lot every time I go through the process and I'm fortunate enough to be getting lots of practice. The key thing working at this independent level is accepting that my imagination is unlimited but my budget is not. I love writing and it's great to let my imagination off the leash, but when it comes to assessing a script as a director I always need to tailor the screenplay to the tight budget and schedules. So what I focus on more than anything else is writing characters who are dealing with social issues or personal problems and ensure their relationships and motivations are what drive the story. In the horror genre I know some people couldn't care less about characters and want lots of gore and horror set pieces. We try to provide that when possible but on a restricted budget and schedule we can't produce movies that are wall to wall special effects. So I try to tell a character led story.
My concepts appeal to the modern market but I must admit that my influences and filmmaking approach are from a bygone era. I particularly love the 1970s when filmmakers were allowed to give their story and characters room to breathe without worrying about giving the audience a chase scene every ten minutes. If people watch 70s movies like 'Play Misty For Me', 'Burnt Offerings', 'Magic', 'To the Devil A Daughter', 'Audrey Rose' and throw in a dash of 1980s flicks like 'The Changeling', 'The Entity' and 'The Stepfather' then they will have a pretty clear idea of what I'm aiming at. I'm not saying I make films at the same level as those classics, far from it, but my approach to telling a story on film is definitely influenced by the pacing and presentation of older films. I understand that making character based films for a generation more used to seeing frenetic cutting and explosions makes my films somewhat divisive. But as a writer and director I am always more interested in spending time on character archs rather than taking weeks to film action which amounts to 30 seconds of screen time.
Silent Night, Bloody Night – one of Jones' projects as a director (above)
LET'S TALK ABOUT YOU NEW RELEASE, ROBERT. WHAT INSPIRED THIS FILM?
When developing a slate of films each year I pitch a selection of my ideas to the investors and distributors to see which ones they would like to move forward on. But occasionally the distributors will come to me and ask for a film on a particular subject and 'Robert' was one of those requested projects. 'Annabelle' proved there was an audience for films about supernatural dolls so I was asked to make a doll film based on Robert's real life story. I had already been influenced by some of Robert's back story for a clown doll which featured in my film 'Poltergeist Activity' , so I was already aware of the case. But the real life story of Robert doesn't really work for a narrative film because it had no natural ending. It would have been tough to build a film towards a definitive resolution sticking entirely to the true story. In real life Robert continued to live with Gene and his parents until their natural deaths which is a pretty uneventful conclusion. The true story element included in the film is that a disgruntled housekeeper gave the sinister doll to the son of the family who fired her and the boy subsequently got the blame for Robert's mischief. But there isn't a great deal of back story out there for Robert's origin beyond that, nor is there any great detail about the Otto family. So I had to embellish on the characters' personal stories and also give Robert some additional back story to add more drama. The distributors wanted a creepier look for Robert as it was felt the real life version was a little plain for horror artwork. Obviously some people find filmmakers changing aspects of real life stories a little irritating, but it's the nature of the beast.
What I was really interested in exploring with this film is what its like to be a person with a mental illness and also what its like to live with someone who has a mental illness. The lead character Jenny has schizo affective disorder, some of the symptoms of that involve hearing voices and seeing hallucinations. Her husband Paul is worried about her state of mind and also about whether or not the illness has been genetically passed onto their son Gene. So when Gene and Jenny begin to believe the doll is alive it creates a natural conflict with Paul who is worried the mental illness is destroying the family. The whole film is essentially Robert serving the same function as the mental illness, causing distrust and tension between the characters simply by his presence in their home. But of course you can't put that sort of thing on the back of a DVD cover, most people would run a mile if they were told that a significant part of the story deals with the impact of mental illness on a family. People are probably more comfortable dealing with the "creepy looking doll comes to life" aspect of the film.
HOW CONSCIOUS WERE YOU, WHEN FILMING ROBERT, OF THE POPULARITY OF THE CHILD'S PLAY FILMS, AND ANNABELLE?
I was very conscious of it. I have enjoyed Charles Band's doll movies over the years and I love the Child's Play franchise so I knew I was working in an established genre. Don Mancini recently pulled off an amazing feat with 'Curse of Chucky', returning the series to its darker roots while not ignoring any of the other films. The perfect example of how to reinvigorate a horror franchise. I knew that the only reason I was asked to make 'Robert' was because 'Curse of Chucky' and 'Annabelle' had recently been successful. But when making 'Robert' I didn't try to compete with what had gone before, I didn't have the budget to do that anyway, so I just tried to tell a story I was interested in telling.
WHAT WERE THE CHALLENGES OF DIRECTING ROBERT?
Budget limitation is always a big challenge. Chucky has the best effects people in Hollywood bringing him to life but we can't compete with that at the independent level. So I tried to create atmosphere in place of effects. The only option for this kind of budget is to employ the same strategy as 'Jaws' – shoot a lot of POVs to create a presence early on and save the shots of the monster in action for the film's climax.
Limited time was the other challenge. We had a schedule of just 8 days filming which meant we had to work around the clock. Also, child actors only get limited time on set so you have to make sure you get all the coverage you need with them before their hours expire. We only had Flynn, who played Gene, for 3 days so often we would shoot his side of every scene first then come back to shoot the adult actors after Flynn had finished work. The adults did some of their best work in those scenes acting opposite the First Assistant Director or in some cases a Teddy Bear!
WHAT DO YOU MAKE OF THE CURRENT CONDITION OF THE HORROR GENRE? ARE YOU TIRED, OR INSPIRED, BY MODERN FILMS?
To be honest I don't really pay much attention to mainstream horror these days, I always go back to films from the 70s or 80s for my horror fix, I find modern mainstream horror too slick for my tastes. I prefer a low budget feel which is why I like indie horror as that's closer to the horror I grew up watching. The Home Entertainment market is over saturated with horror content but there are always gems that can be found. There are lots of filmmakers in the UK and America who have impressed in the independent horror field. To name a few -MJ Dixon, John R Walker, Lawrie Brewster, James Crow, David Ryan Keith, Tony Jopia, Brandon Slagle, Daniel Emery Taylor and Axelle Carolyn. Always worth checking out new movies from those filmmakers, all very different but all very good.
WHAT'S YOUR NEXT PROJECT?
At the moment I'm in the final stages of post production on two films shot earlier this year. 'Kill Kane', a crime film starring Vinnie Jones, and a demonic possession horror 'The Exorcism of Anna Ecklund'. We currently have 5 projects being considered for shooting in 2016. I'm planning on taking the 2016 projects into a few new directions so it promises to be an interesting year!
AND FINALLY, CAN YOU TELL US YOUR FAVOURITE HORROR FILM?
It's hard to pinpoint just one. I've mentioned a few films in the previous answers which all have a big influence on me. But there are a few horror films which I have a sentimental or nostalgic attachment to. For instance I love 'Friday the 13th Part 2' because watching it reminds me of a time in my childhood when I went to a Megastore in Cardiff with my mother (who is no longer with us) and she bought me the VHS. I love 'Halloween 4' because I remember my father bringing home the VHS as a gift for me after he returned from a weekend trip. I love the original 'Halloween' of course and have great memories of putting it on as a child during a sleepover with friends at my house. One of my friends was so creeped out by the opening theme music that he left and went home before the film had even started! I also hold 'Sleepaway Camp' in high esteem because I was about 8 years old when I saw it and vividly remember how incredibly shocked I was by the twist ending. I still think it's the most effective twist in horror film history. A really wonderful film that never gets the credit it deserves is 'The Exorcist III'. A film that in my opinion perfectly balances horror, humour, theology and philosophical subtext. A very unique mix! Well worth checking out if you haven't!
Thank you to Andrew Jones for his time.
To find out more about Andrew Jones and his work, please visit:
---
INTERVIEW WITH TV's MOST HAUNTED MEDIUM – BARRIE JOHN
You may be familiar with the name Barrie John. To those interested in the paranormal world, his name is highly respected. As one of Most Haunted's lead mediums on the popular TV show, and a regular contributor to the magazine Fate & Fortune, Barrie has quite a large following. I wanted to learn more about the man and his work, and he kindly agreed to be interviewed.
How and when did you discover you had the gift of mediumship and psychic abilities?
I have always known since being a child. I seemed to sense and know things from an early age, I used to be fascinated by stories of the afterlife, and I would watch programmes and get that feeling of 'De Ja Vu' etc.
 Based on your own experiences as a psychic medium, what is your opinion on hauntings and the after-life? Do you believe in the typical ideas of heaven and hell, or are these misconceptions of the after-life?
I have strong views here, I believe that we ALL go to an afterlife place, a place of rest, beauty and also our of pain. However, I do believe that your 'spirit' will remain the same, if you were happy here you would be a happy spirit and vice versa. I don't believe in evil, I believe that this is a manmade creation or imagination which forces people to follow others in terms of religions etc.
You worked on the Most Haunted TV show. Can you tell fans what your experience of working with the MH crew was like? Did you enjoy your time in the show?
The team are and were amazing, I still hear from them now. As much as my parts were serious, we also had some laughs behind the scenes!. I would also say that we had some 'scary' happenings off screen too, which spooked the pants off me! You have to remember that these shows are filmed over long periods, and to only show 45-60mins doesn't really show the locations at there full credit.
 What is your opinion of those who seek to discredit psychics and mediums? Do you feel frustrated by those who are closed minded, or does this inspire you to keep striving to prove there is an after life?
I have no issues with anyone trying to discredit mediums etc, I just know that I have feelings and I know things that dont make sense to me however they do make sense to others. It really does make me want to carry on, and to prove 'more' to people. People try to confuse mediumship with science, this just makes it hard to understand at times. I go with an open heart, and I know that spirit are always close to us all.
Do you think everybody has a certain ability to sense spirits, or is this something only a select few are born with?
I believe that everyone has a psychic ability, they can sense and detect things happening around them, but I don't believe that everyone can be a medium.  I believe that you develop your mediumistic qualities from 'pains' that you experience in this life, this teaches you about dealing with emotions and also life'e experiences which are thrown at you. Remember ALL of life's lessons are there to teach you something, learn from them and don't repeat the same mistakes twice.


During your paranormal events and investigations, have you ever felt afraid or unnerved by any entity you have come across?
Gosh, yes too right I have!. Spirit will often surprise me or call out my name to get my attention. I would never do a lone vigil, sorry…. it would freak me out too much cos I know what spirit are capable of doing.
Out of all the places you have attended, which has been the most haunted or active?
This is always a tough one for me to answer, I have done around 3000 (Approx) events now, and I have some great stories and also experiences of certain locations, such are Margam Castle – Wales, Galleries of Justice – Nottingham, Oxford Castle – Oxford (my first Most Haunted location), Skirrid Inn – Wales, the list is endless. However, one recent location really does stand out for me lately and that would be Newsham Park Hospital – Liverpool.
For the horror fans on my page, can you tell us what your favourite scary film is? 
I love a good movie, but I don't sleep well after them. I love Stephen King, and I would have to say that Pet Semetary is one of my favourite films!
To learn more about Barrie John, please visit his website:
Thanks to Barrie for his time.
---
INTERVIEW WITH URI GELLER
For some time, I wanted to engage with paranormal figure Uri Geller, about his life, career and work. This week, I was able to do just that. After a brief exchange via email, Uri invited me to phone him at home last Monday, so that I had an opportunity to talk candidly with him, and have time to put my questions to him. I was thankful for the chance, and agreed readily.
Uri has always fascinated me. Back in early 1999, and in the early 2000's, I met with Uri several times. We exchanged emails, met at his shows and spoke frequently. As a fan and paranormal enthusiast, I was very grateful that he made such an effort. It seemed then, and does now, that he never tires of giving time to his supporters. We kept in touch, however, we lost contact after some time. I still continued to watch his work from afar, and enjoyed reading his books and seeing his shows. I never lost that spark of interest, and I knew he would make an ideal guest for this website. So, I cannot tell you how happy I was that he agreed to make time for me again.
Author Fiona, and Uri Geller, first met in 1999. (Author's photo collection).
Say the name Uri Geller to anybody, and you will get a reaction. Some people are amazed and perplexed by his talents, others sceptical. Everyone has an opinion on the man. Through the years, he has been called everything, from magician, to paranormal enigma, to conman. Say what you will about Uri, but he has lived with many labels of judgment over the years.
I wanted to learn where it started. During our conversation, I asked Uri to explain how his life took such an unusual turn.
Uri said he saw strange lights in gardens in Tel Aviv. "I have many theories about what I saw. The most outlandish theory is that I saw a UFO – an extra-terrestrial vehicle. I also wonder if it was some kind of supernatural experience. My third explanation is that it could have been a geophysical occurance….an energy field that appeared. This event was validated by a witness – a retired air force office who saw me." So, could this odd occurrence have led Uri to possess his powers? He is not sure. "I can't answer for certain," he said, "but it was shortly after that time when I had my first experience of a spoon bending – whilst I was eating soup."
Uri bent my spoon, effortlessly. Did I see correctly, that the spoon continued bending even after he placed it on the table? (Author's own photo collection).
After this, Uri's life changed. He found he could bend metal objects with the force of his mind. Broken watches would begin to work if he handled them. He could often tell what people were thinking. I wondered if such an array of phenomena frightened him at any point. "No," he insists. "Some said I was a freak, but I loved it. Some boys were good at school, some were good at sports. This was something different that I could do well."
 As he grew older, Uri explained that he wanted to leave his home town and use his talents to better his life. "I wanted to do well for myself. It was my ticket out of poverty. I wanted to use my abilities."
So, Uri branched out. He began doing demonstrations, and in order to refute the allegations that he was nothing more than a magician, Uri submitted himself for testing and observation at the Stanford Research Institute, amongst many other institutions. "I was validated by so many scientists. I think people will be quite shocked at how many universities and institutions that I openly worked with. Scientists who are closed minded are not doing a good job. They are supposed to go in with an open mind. I never liked being a lab rat, but I have done all I can do to prove myself."
Uri spent many year taking his talents around the world. He astounded theatre audiences with his mind-reading ability. Experiments were successfully completed on live television. His spoon-bending caught the public's imagination. Famous people wanted to meet him – Mohammed Ali, John Lennon, Michael Jackson and Elvis Presley, to name a few. Uri's name was firmly on the map as being one of the biggest name's in paranormal history.
I saw Uri's car, which is decorated with thousands of items of bent metal. (Author's photo collection).
Despite attempts by the media to discredit him, Uri remained confident in his abilities, and never shied away. "The sceptics were negative, but I soon learned that any publicity is good. I was in demand. They inadvertently added to the mystique."
Uri was able to devote his life to his unique gift. TV shows, documentaries, movies (even The Matrix has a nod to Geller in it), theatre demonstrations and even, surprisingly, working with businesses to locate oil in certain parts of the world. His life, so far, has been nothing short of fascinating.
After meeting Uri myself, I personally have faith in his abilities. Yes, there are magicians who claim they can replicate what Uri does. Are theories true that magicians copy Gellar by using doctored spoons or cold-reading techniques?  Either way, there is something entirely different unfolding when you experience his work first hand. I have witnessed his mind-reading, and even had my own spoon bent. I was nothing short of impressed. The spoon appeared to keep bending even after Uri set it down onto a table. Those that have met him or witnessed his work largely agree. The man is an enigma, unique and inexplicable, but the evidence is before our eyes. Very few people would be willing to be tested under laboratory conditions unless they believed in their ability – and were comfortable to be studied under such scrutiny. Uri has always remained confident and comfortable regarding his unusual gift.
Uri always has love and respect for those who support him. (Author's photo collection).
As any regular readers here will know, I am a paranormal enthusiast, particularly interested in hauntings. I couldn't resist asking Uri his thoughts on the subject. "I do believe in life after death," he said frankly. "Many years ago, Einstein showed us that energy cannot be destroyed. So where does our energy, our souls, go? I think there is something else."
After all these years, Uri remains to be a divisive figure. Some love and adore him and his work, others feel wary and sceptical. Despite this, he has managed to bring many aspects of the paranormal to the public forefront, and engaged with many scientists in the field to aid our understanding of such phenomena.
Uri, to me personally, was warm, friendly and open. I am very thankful to him for his time and efforts in engaging with me, and I look forward to learning more about his work in the future.
To learn more about Uri Geller and his world, please visit his website: http://www.site.uri-geller.com/
Thank you for reading.
———————————————————————————
INTERVIEW WITH PARANORMAL AUTHOR  BRAD STEIGER
Anyone who enjoys reading about the paranormal will likely have heard of US author, Brad Steiger. He is the author of an impressive array of books on UFO's, hauntings, demons and spirituality. I first came to know his work through his "Shadow World" series of books, and have enjoyed his work ever since. Brad is the author of over 170 books, and has sold over 17 million copes worldwide, since his first release in the 60's.
Brad had an unusual near death experience as a child, which appears to have opened up his interest to the paranormal world as he grew. It is here that I began our interview.
At the age of 11, it was reported that you underwent a near death experience. Can you describe what happened and how this changed your perception of life after death?
I have a blurred memory of losing my balance, falling off
the farm tractor that I had been driving, and landing in
the path of the implement with whirling blades.
I remember the pain as the machine's left tire mashed my
upper body and broke my collarbone. And then I no longer
felt any pain as the blades clutched at my head and ripped
at my scalp and skull. I left the body, and I was now
floating many feet above the grisly scene in the field
below.
I recall a fleeting moment of feeling relief when I
perceived that my seven-year-old sister June, who had been
riding with me on the tractor, managed to bring the
machine under control without endangering herself, but I
was becoming more detached about such earthly matters by
the moment.
I had some sense of identification with the mangled Iowa
farm boy that I saw lying bleeding beneath me on the hay
stubble below, but I was growing increasingly aware that
that unfortunate lad was not who I really was. The real me
now seemed to be an orange colored ball that appeared
intent only on moving steadily toward a brilliant light.
At first, because of my religious orientation as an
Evangelical Lutheran, I believed the illumination to be
Jesus or an angel coming to comfort me, but I could
distinguish no distinct forms or shapes within the bright
emanation of light. All I seemed to feel was an urgency to
become one with that magnificent light.
Strangely, though, from time to time my attention seemed
to be divided between moving toward the wondrous light and
descending back toward the hay field.
I opened my eyes, blinked back the blood, and became aware
of my father, shocked, tears streaming down his face,
carrying my body from the field.
And then I discovered a most remarkable thing: I could be
in two places at once. I could exist physically in my
father's arms as he carried my terribly injured body from
the field; and at the same time, I could be above us,
watching the whole scene as a detached observer.
When I became concerned about my mother's reaction to the
dreadful accident, I made an even more incredible
discovery: The Real Brad could be anywhere that I wished
to be. My spirit, my soul, was free of the physical
limitations of the human definitions of Time and Space. I
had but to think of my mother, and there I was beside her
as she labored in the kitchen, as yet unaware of my
accident.
It was August 23, 1947, my parents' anniversary. The
family had been trying to finish work early so that we
could eat at a local restaurant before the double-feature
began at the movie theater. I had certainly given Mom and
Dad a wonderful anniversary present.
And my sister! A seven-year-old girl having to watch her
brother being run over and killed.
Killed. That was when it occurred to me that I was dying.
I had an awful moment of panic. I did not want to die.
I did not want to leave my mother, father, and sister.
And then the beautiful light was very near to me, and I
perceived a being composed of pure light who projected a
three-dimensional geometric design that somehow instantly
permeated my very essence with the knowledge that
everything would be all right.
The very sight of that geometric design somehow
transmitted to me that there was a pattern to the universe
and a meaning, a Divine Plan, to life.
My panic and my fear left me, and I experienced a blissful
euphoria, an incredible sense of Oneness with All That Is.
I was ready to die and to become one with the light.
But even though I was at peace with what appeared to be
the fast-approaching reality of death, I had
misinterpreted the reason why the intelligence within the
light had shown me the geometric representation of the
Divine Plan. It seems that an integral part of my mission
on Earth was to testify to others about what I had been
shown.
In the August 12, 1973 issue of the National Enquirer, our
family's former physician, Dr. Cloyce A. Newman, was
interviewed about my near-death experience that had
occurred twenty¬-six years before. Dr. Newman, who was at
that time living in retirement in Homestead, Florida, told
of his shock when my father carried me into his office and
how he had rushed us by car to St. Mary's Hospital in Des
Moines, about 140 miles away: "He was very seriously
injured and on the verge of death. We managed to get him
to a specialist and it saved his life."
I was in and out of the body during those 140 miles, and I
did not come back with any serious intention of staying in
that domicile of flesh until the surgery was about to
begin. At that point, it seemed as though some energy was
insisting that I return to participate in the medical
procedure.
Just as the procedure was about to begin, I came back with
such force that I sat up, shouted, and knocked an intern
off-balance. I continued to struggle until the soft voice
of a Roman Catholic sister pacified me long enough for the
anesthesia to take effect.
Although my life force remained in the eleven-year-old
body to cooperate with the surgery, my Real Self left to
spend the next twelve hours in a delightful park in
another dimension, complete with bandstand, ice cream
vendors, and smiling, pleasant people.
About 1982, I was attempting to describe the series of
geometric designs to a number of other men and women who
had undergone near-death experiences. When I found myself
unable to provide a meaningful description of the pattern,
I stated that the designs–so clearly envisioned by me to
this day–appeared to be ineffable, beyond human
description. Two or three of the group stated that they
understood what I was attempting to explain, for they,
too, had been shown some kind of tranquilizing, yet
revelatory, geometric object–and they also found it
impossible to describe it in mere words.
It was not until 1987 when Sherry began to conduct
seminars utilizing in part computer-derived images of
fractal geometry that I saw designs that very closely
approximated what I had been shown during my near-death
experience. Sherry, it seems, had seen such geometric
designs in visionary experiences since she was a child.
The central purpose of her seminar was to demonstrate the
sacredness and the multidimensional oneness of all
creation.
From the perspective of my now 78 years, I can see that
my near-death experience at the age of eleven was a most
fortunate one. Certainly one of the questions that every
thinking man and woman eventually asks is, "Is there life
after physical death?" I was blessed to have that eternal
puzzler answered for me in the affirmative before I
entered my teens.
I was shown through my powerful near-death experience that
there is an essential part of us, perhaps most commonly
referred to as the soul, that does survive physical death.
This knowledge has greatly influenced my attitude toward
life, as well as toward death.
And I am far from alone in having been granted this
emancipating awareness, this life-altering assurance.
  
How did family and friends react when you told them about your near death experience? Were they sceptical? 
My "ministry," if we may use that word, began in St.
Mary's Hospital when I was recovering from my accident. I
had already confided to one of the nuns that I had "gone
to Heaven" when I was out of my body. A few nights later,
the nun summoned me to console the parents of a dying baby
girl and share my experience that there was a "heaven," a
lovely place where there were other children and their
daughter would be waiting for them.
By the time I was eleven, it was pretty well decided by
the elders in my home town that I would be a Lutheran
pastor, so people of all ages took my account seriously.
It was a great disappointment to me that when I began to
write about the paranormal (or "the supernatural" as the
subject was commonly designated in those days) so many of
the men and women who would have likely been my potential
congregants were distressed and disturbed by my departure
from orthodox dogma. It was upsetting to a surprising
number of people that my vision of the after-life is
nondenominational and is open to individuals of all
creeds, colors, and life-paths.
Although I did not enter the seminary, Sherry was at one
time on the staff of the Lutheran School of Theology in
Chicago. After a few years performing traditional
ministerial duties, she left the orthodox pulpit to found
the Butterfly Center for Transformation in Virginia Beach.
The Center hosted leaders from all spiritual/religious
expressions.
  
You have written and co-authored a large number of titles on the subject of spirits/demons/hauntings. Can you tell me have your own beliefs changed throughout time, based on your research and writing?
It is interesting that you ask about the Creatures of
Darkness. At the present time, requests for assistance in
riding oneself or one's family of demons and evil spirits
constitute our Number One email.
As one who grew up in a house upon which stood the old
stagecoach stop, we were regularly treated to thumps,
bumps, apparitions, and the sound of invisible horse-drawn
vehicles. My sister and I suggest that our insomnia today
is due to the sight of men and women in period costume
walking through our bedroom. Apparently, they were the
spirit essences of men and women waiting for the next
stagecoach.
Yes, the manifestations that I beheld as a child were
sometimes spooky, sometimes annoying, and sometimes
disturbing, but never did I feel that any of these ghosts
would harm any of us.
I came to believe that these images were somehow
impressed in the atmosphere, the environment of a
dwelling, in a manner not yet understood. I theorized
that ghosts, by and large, were psychic residue that could
be activated by humans who possessed a psychic affinity
with the energy in a home, a hotel, a school, a
battlefield. One could not interact with a ghost any more
than one could interact with the actors on a motion
picture or television screen. And ghosts surely could not
harm anyone.
This was my philosophy during my first several years of
ghost hunting.
And then I began to encounter entities that certainly
were more than gobs of psychic residue. These
disagreeable beings could push, shove, strike—and in one
instance shatter a door that I had ordered locked. Some
of these entities really didn't like me or my team, so we
readily agreed with the afflicted inhabitants of these
cursed homes that nasty, nay, evil spirits dwelt unbidden
and unwelcome. In many homes, we conducted exorcisms and
cleansings to bring the inhabitants peace and deliverance.
Over the years, Sherry and I have developed a set of
techniques and exercises that have worked extraordinarily
well in freeing oneself or one's home from these
exceedingly bothersome creatures of negative energy. We
are pleased to send these instructions to anyone who
requests assistance in driving these cruel beings back to
the darkness from whence they came.
Can you tell us about your studies and beliefs regarding UFOs?
I have authored/co-authored over 20 books on UFOs—from
Strangers from the Skies (1966) to Real Aliens, Space
Beings, and Creatures from Other Worlds (2011), so I guess
that counts as a "deep interest."
Sherry and I consider UFO research to be among the most
important work being conducted today, for as we perceive
the mystery, it touches all aspects of human endeavor on
the planet. And because the global phenomenon that we
label the UFO is so multilayered, so all-encompassing, and
so complex, it is also quite likely the most confusing
research being conducted today.
Have you seen or experienced anything of a paranormal nature yourself, outside of your NDE?
When I was a child, I saw what is commonly referred to
as an elf–or in the Scandinavian traditions of my family,
a nisse– looking in the kitchen window of our Iowa farm
home. I believe that I must have surprised him as much
as he did me, but he quickly regained his composure and
gave a rather a conspiratorial smile, as if we were
sharing a secret that was profound in its simplicity. Then
he vanished.
I have never forgotten that smile or the nisse's
compelling eyes. I have walked many a strange path and
turned many a bizarre corner in the hope that I might once
again meet my multidimensional friend. On several
occasions, when I somehow sensed his presence, I quickly
glanced over my shoulder, hoping to catch a glimpse of
him. Although I have not yet seen him again, I know that
he occasionally makes his presence known by acts of elfish
mischief.
In the seventy-five years since my encounter with the
mysterious entity, both Sherry and I have met and
corresponded with hundreds of men and women who have
experienced an interaction with beings that appeared to
them as spirits, elves, ghosts, holy figures, or
extra-terrestrial visitors. These people are sincere in
their recounting of their experiences and are unshaken by
the disbelief or doubts of others.
While in many instances there is little or no physical
evidence to demonstrate any kind of proof of the encounter
to skeptical materialists, the individuals who received
such unexpected visitations from non-material beings are
left with an unyielding conviction that their lives have
been forever changed. For some reason which they may never
fully understand, they underwent an individual mystical
experience with some facet of the supernatural. They were
somehow invited to participate in a very personal, very
subjective, extremely illuminating experience that is as
intimate, as life-altering, as revelatory, as unifying as
the human psyche can perceive.
Do you believe that in-depth study of the paranormal can attract entities or energies, like a magnet?
I don't think there is any question about this, at least
in my case and in Sherry's, as well.
Is it ever frightening? In some cases perhaps temporarily
unnerving or startling, but after a lifetime of
interaction with the paranormal, there are few
interactions that cause fear. However, it does get a bit
tiresome coming down to breakfast in homes where we have
accepted what we believed to be a social invitation to
find everyone staring at us in anticipation to see if we
witnessed the ghost or ghosts that have been reported in
our guest room. Some of these unexpected nights of
unanticipated ghostly interaction have been quite
dramatic.
May I ask your opinion of modern day TV ghost hunting shows?
Some of the documentaries are really quite good, and we,
over the years, have appeared in a number that were
directed by individuals with whom we had previously worked
in various television projects.
The ghost hunter variety programs constitute a two-edged
sword. They acquainted a wide public about the reality of
haunting phenomena, but they are sometimes rather careless
in announcing their solutions of the alleged ethereal
activity. It seems now in the States that every city or
town with a population of 500 has at least one paranormal
research group, one team of "ghost busters."
All of this varied programming is light-years away from my
first days appearing in television or on radio talk shows
in 1963. In those days, with few exceptions, the
paranormal guest's reception was a hostile one.
Can you share with readers what you are up to at the moment?
We are currently working diligently and very
enthusiastically on a book presently titled, Real
Visitors, Parallel Dimensions, and Secret Beginnings.
I just want to offer a huge thank you to Brad, for taking the time out to answer my questions.
TO FIND OUT MORE
Visit Brad's website: http://www.bradandsherry.com/
———————————————————————————————————————–
INTERVIEW – Sallie House Haunting with Debra Pickman
After reading the true life account of the haunting now famously known as the Sallie House Haunting, I felt compelled to get in contact with Debra Pickman, the young mother and wife who suffered the horrific encounter. Open, friendly and approachable, Debra was more than willing to discuss her perspective of the haunting and was able to take part in a question and answer session. I am pleased to be able to share the results of our discussion below, and look forward to hearing what you all think of Debra, and the haunting itself.
In your novel, The Sallie House Haunting, you describe a set of unusual and unnerving events, such as items going missing or hearing random noises. Can I ask, at what point did you feel that the things happening in your home were actually paranormal in nature? Was there a specific incident or turning point where you felt your home was haunted?
Its difficult to say for sure, as my mind is always so logical and prefers to err on the side of sensibility, logic and a tangible explanation for things. I guess I would have to say the night that all the stuffed animals in the nursery were moved into a circle in the middle of the room was the shocking night of in your face realization for the three of us. It was hard to deny that something was happening, and some unseen force or energy was responsible for what we were repeatedly experiencing. Logically ruling out other possibilities had been exhausted.
Once you and your husband Tony came to accept that your home was haunted, how did this effect your day-to-day life in the home? Was it hard to relax? Did you feel uncomfortable?
Tony and I actually dealt with our situation in two very different ways. I had been interested in the paranormal as a teenager and was ecstatic that I was in a situation to experience it for myself. I just knew that if given the right situation and approach, there could be real communication between the spirit and the human world and I was excited for the opportunity to give it a try.
Tony on the other hand was rather cemented in the religious teachings and beliefs that he was brought up with; that spirits were an unnatural occurrence, a bad thing and something to ignore or leave alone. The fact that Tony was affected differently, because he was having distinctly different and worrisome experiences than I, also set us apart on how we dealt with being haunted. Tony almost always felt uncomfortable; not knowing what he was going to hear or see next.
I'm not sure I could say that I was relaxed or comfortable either though. As experiences gained momentum, I worried about how our infant might be affected by the unseen forces that were obviously in our home. The fires and such created worry and stress as well; unsure of the possibility that something would get out of hand and put our lives in danger was always in the back of my mind. Even more so, because of having different experiences and viewpoints, Tony and I argued on almost every aspect of dealing with the haunting. This put a tremendous amount of stress on our relationship or friendship and trust in each other.
In your account, we learn that the haunting involves the spirit of a 7 year old girl, called Sallie, and that you felt quite drawn to taking care of this lost and innocent soul. How did your husband cope with your desire to not only communicate with Sallie, but to also take care of and invite her into your daily lives?
Tony basically thought I was playing with fire, was a nut for talking to the air (Sallie) and expecting compliance and had a difficult time with my desire to get answers through various types of interaction. Knowing of my interest in the paranormal, he appeased me and went with the flow as much as he could; even putting aside his growing fear created by the intensified experiences he was having unbeknownst to me.
How did family and close friends react to you and your husband once you told them about the paranormal occurrences in your home? At one point in your book, you describe feeling "judged and scrutinized" by people. How did these experiences of feeling judged or not-believed affect you?
My side of the family was a bit more open to the possibility of what we were experiencing; and several members of my family had an experience while visiting which reinforced their need to be more open-minded.
Although a few of Tony's family members seemed supportive in the beginning, we soon lost that support when they felt judged by outsiders. For a while it was very difficult being so scrutinized by people who did not believe us. There were sarcastic and condescending comments, being pointed at while at the local stores and people who no longer wanted anything to do with us for fear of being associated with our farfetched claims – keeping in mind we live in the Bible belt.
As time went on and our story became more widely known, people saw raw footage of our experiences on reputable shows and I think they were better able to entertain the possibility that our claims were real because they were being authenticated by experts and scientists.
What followed were people who asked serious questions, told us about their own experiences and showed a real interest in ours. It was surely hard to deal with sceptical people and for the longest time we felt the need to defend ourselves. Eventually we grew comfortable with the knowledge that we alone knew what we had experienced and although we put it out to the public we could not control how they perceived it. After all, we ourselves had been tough sceptics on the claims of others over the years until we had our own experience, so how could we judge others for drawing their own ?
Some of the phenomena in your home involved items being thrown, fires starting of their own accord, and loud noises. Did you ever worry about the safety or lives of your child, your husband, or yourself?
Although, the concern for our safety was often in our thoughts, we were told, by a psychic involved in our haunting, that "Sallie" would not do anything to harm the family; she loved the family and would actually protect the family. This seemed to be the case defined by several events, so we tried not to worry. I say "we" but I mean me. I know Tony worried a lot; he's a worry wart about everything and I seriously don't know how he kept it together back then.
 Early stages of the haunting you wrote about, indicate your belief that the things happening in your home was the result of child-spirit activity. However, over time, we learn that more  viscous and darker things started to take place – especially to your husband. Tony recalls feel attacked, being scratched and burned. At this point, did you wonder if there was more in the house than just Sallie? Or did you feel Sallie wasn't the innocent child you thought she was?
I remained sure that there was a young and innocent child spirit in the house who needed protection and cared for. Tony had experienced seeing an older female on several occasions, but I thought his experiences could be explained by fatigue, stress and lack of sleep.
The realization that there was more than one spirit in the house became clear at Christmas when we had photos developed in which there were two very distinctly different anomalies in the photo. This seemed to support Tony's claim and we began looking at things a little differently.
At any one time, did you suspect Tony, friends, family or neighbours of trying to fool you by creating effects in the home? Did Tony suspect anybody?
The night the stuffed animals were positioned in a circle on the floor of the nursery was the only night we thought there might be pranks being played on us by friends or family members. It was not only  the ability to logically eliminate the viable and reasonable explanations during each subsequent event that night, but the thoughts of a prank were debunked by the very events themselves which took place while Tony, my sister and myself were all in the same room (leaving no room for blaming each other).
It becomes more apparent as your case of the haunting progresses, that things took a very dark turn for the worse, and both you and Tony felt scared, unsafe and at times under attack. You started to believe there may be evil or demonic activity involved. Looking back now, do you feel that Sallie ever existed at all, or do you believe an evil entity or demon used Sallie as a "mask" to cover darker intentions?
Tony and I whole heartedly believe that although there may have been human spirit there at times, the bulk of activity and "show" was used as a facade to hide behind. We believe that the house had/has at least one very strong and powerful dark entity capable of altering thoughts, perception, emotions and actions of those it wishes to inflict these elements upon. We believe that the intention of this dark presence was to cause chaos and bring down everything good within a god fearing family. That presenting as an innocent young female would be more acceptable and less threatening and it would be easily accepted by us and then be able to do its damage. This attempt worked with me and I not only accepted it, I unwittingly enticed it with continued acceptance and interaction.
Tony on the other hand had never accepted what he saw or heard as an innocent projection of human spirit. This dark force seemed to understand his attitude and took it as a challenge to defeat his inner strength against. It presented differently several times and when it still couldn't entice him into acceptance, it proceeded to work on his emotions, thoughts patterns and mental state of mind, which severely jeopardized the family's safety, namely the safety of me.
Although, evidence from investigations since we lived in the house, show that there seems to be active human spirit (both residual and interactive) at this location, we also have EVP depicting that they are scared, manipulated and ultimately captive by a much more powerful force that tends to be an overseer of sorts.
Tony suffered a great deal during the haunting, as is evidenced by the photos of his body after attacks. Do you look back and regret not listening to his wishes to move house, or are you glad you were able to live-through the momentous haunting you encountered because of what you have learned and experienced?
I'm not sure at what point we could have left the house and been free of the ties that continue to bind us to the energy and spirits there. I honestly don't think that we will ever be free, because as soon as we let our guard down or get comfortable, it seems we are under attack again. Of course nothing like it was while we lived in that house, but none-the-less it affects us in a significantly negative way.
Having gone through the experiences we have, has certainly opened our eyes to these dark and unseen forces that we all face but don't recognize. Difference is that we can distinguish when something negative is at work around us or between us and can take actions or react appropriately so that harm, whether it be mental, emotional or physical, is minimal. The whole experience has strengthened our faith, brought us much closer to God and given us the ability to help others in similar situations.
With that said though, I sincerely regret that Tony went through so much in his own experiences within this house and felt so alone and forsaken through it all. Experiences that were so odd and farfetched they actually alienated him from me and others who might understand and help. Some feel it was a cognisant choice on my part to ignore his experiences, his distress and the signs of trouble, others feel that I was just as manipulated not to see it or to help him. Whichever it is, I will regret, for the rest of my life, not being there for him in some better way.
Would you consider that the entity in your house perhaps manipulated your thoughts and feelings into wanting to stay in the house and interact with the beings there?
As much as Tony was manipulated by jealousy, anger, insecurities and fear while in the house, I do believe I was manipulated by my mothering instinct (having just given birth to a baby) and by my interest and longing for a paranormal experience. Tony recognized my interest early on and placated my efforts to interact and experience the paranormal events in our home. Allowing this secured a further interest and desire to find answers and before we knew it we were each being affected differently by the energy within the house. I wanted to stay because I felt no real threat; the operative word being, "I". Fact is it wasn't me that was feeling eminent danger, it was Tony.
As I look back I cannot understand how I ignored so many signs, so many experiences, and so many words that pleaded. I am a logical, fact seeking person who assesses everything around me or taht affects me or my family. My natural instinct should have been to ask Tony more questions, get more details of the experiences he was having, do more research and fully explore the possibilities not simply shrug them off repeatedly leaving him rejected and alone. It is for this reason that I feel I was manipulated to work against my own husband, to work against my own nature just like he was.
How and why did you and your husband come to the decision to go public with a story/claim that would certainly be scrutinized?
 The decision to do go public was not an easy decision and again another topic that Tony and I battled fiercely over from opposite sides of the fence.
He is a very private and quiet person by nature and comes from a very large and respected family in a small town (his father was 1 of 13 children, his mom 1 of 12, and they had 8 children together. One can only imagine how the family had grown over the years and permeated the town). Tony was extremely worried about how going public might affect his family's place in the community. Additionally, he didn't want people to assume we were attention seekers or worse yet, being paid to portray a wild claim.
When we several television shows showed interest in our story, I advocated allowing their involvement because we were promised that they would bring in people who would give us help in dealing with the paranormal events we were experiencing. We were so out of our element and didn't know where else to turn. Additionally, I felt our case was very different from others that I had read about and was certain that those in the field might be interested in knowing the particulars of our experiences.
Money was never a factor or offered in exchange for going public with our story. In the end it was the hope of getting a level of help and understanding for our own experiences and  to perhaps let others who might be going through paranormal events of their own, know that they were not alone.
 Thank you Fiona, not only for great questions but also for the opportunity to share my story.
————————————————————————————————————–
AN AUSTRALIAN HAUNTING
Anybody who has read my novels knows that I am passionate about the paranormal. I like to explore this fascinating subject as much as possible. I always approach paranormal accounts with an open mind, and when I came across this story on a website, I wanted to explore it further. I contacted the person in question, and thankfully she was willing to share her account of her haunting experience. I want to thank her for her time,  honesty and for sharing an account of her life that was, at that time, troubling and upsetting to her. I hope you enjoy reading this as much as I enjoyed it.
Can you share with us a little bit about yourself and your background, Melissa?
I was raised in New South Wales, Australia in a Christian home.  My Father was a Pastor of a Church for more than 25 years, so being a good Christian daughter went along with the territory I suppose.  I'm happily Married to my Husband John, am the Mother of 5 children and am currently working full time in administration for a Trade College, so life is pretty much as mundane, hectic and normal as family life can be really.
Can you tell us when you moved into the home, and how soon you started noticing unusual occurrences?
We moved into the home at Daisy Hill, Queensland in September 2007.  At first the house was just perfect for our needs.  It was affordable for our small income, the school was close, shops even closer and not far from where I was working at the time. It was an older style 4 bedroom house with polished wooden floors.  It's what we would call a renovated "Commission" house, which basically means it was once owned by the government and then sold to a private owner.
The first night, as any first night in a new home, was a little uneasy…we were all just getting our bearings on our new surroundings I suppose.
A couple of days after our first night, we would hear scratching in the walls.  I thought we may have been lucky enough to have acquired rats.  A week later, whilst in bed at night, I would hear what sounded like faint footsteps running up and down the hallway. Because it was so faint, I thought it may have been sounds coming from the neighbour's house.
Did you suspect straight away that the unusual activity was paranormal? Have you always believed in the paranormal?
I think with anything like that, you just automatically and logically attribute your natural surroundings to anything that is questionable. I didn't admit to myself that is was something else until I saw evidential proof that it was 'something else'.  Everything else, although it left you with an uneasy feeling, was so surreal, it left you questioning yourself.
Have I always believed in the Paranormal? Yes and No. Being raised a Christian; I was always taught about Demons, Angels, Good and Evil…but paranormal.  No.  There was no such thing as Ghosts and such.  To me, it was either made up or in the mind of the person telling the tale.  Should I have seen photos of such…it was a Demon.
Can you describe for us what sort of things occurred?
Where do I begin?  There was just so much that went on.  I mentioned the scratching in the walls.  One day, I thought I'd scare the 'rat' away and bang on the wall to make it stop.  I banged 3 times – it banged back 3 times.  That was scary.
We would hear clear shuffling – like the sound of bare feet walking on the wooden floors at night, whilst everyone was in bed.
We would hear the sounds of nails scratching and dragging down the hallway, on the walls, in the roof and also under the floors. Dragging; shuffling and banging in the roof. Tapping on doors and the windows at the back of the house – which was impossible because there were no trees nearby, and no one could have climbed up the back as it was two stories high.
Lights would turn on and off without any reason whilst we would talk about God.  The power would shut off numerous times in succession, and then just be fine.  We'd hear loud bangs on the front door at night, answer it and have no one there. I'd be in the shower and sense someone there.  Feeling like a physical presence in the same room, open the shower curtain to find no one else there.
You said in an online article that you began to see physical manifestations in the home. What was it you actually saw? Can you describe it?
For a while there was just a lot of speculation as to the what and why's of the noises we were hearing.  It wasn't until we were pregnant with our Fourth child that things started to get a little worse at night. Being pregnant, getting up a lot during the night is a given and I would sometimes get that creepy feeling that something was behind me and then hear a horrible hissing like breathing from behind me.  It was all just so scary – but at the same time…questionable.  So my mind would tend to just brush it off and put it down to an overactive imagination, tricks of the mind or my natural surroundings.
Then, I started to wake with the feeling of being watched.  I would see either a red, yellow-orange or grey cloud hovering over my head.  Other times I would wake suddenly to see these 'things' like weird shapes that looked like faces, but were faceless floating past, big black spiders or insects crawling over the mirror and then disappear and sometimes the shape of a blurry person standing at my bedside watching me.  It was always so scary.
One night, I woke to the feeling of being watched and was facing the mirror at the time.  As I opened my eyes, in the reflection of the mirror stood a silhouette of a person that looked terribly charred.  I screamed and it disappeared.
One night, I woke to the feeling of being watched and was facing the mirror at the time.  As I opened my eyes, in the reflection of the mirror stood a silhouette of a person that looked terribly charred.  I screamed and it disappeared.
How did family and friends react to your fears and experiences when you shared them?
At times I would see something floating in front of me and point it out to my Husband – and he wouldn't see a thing.  These things made me feel like I was going crazy.
I remember being up late one night to make our baby a bottle and saw a bright light shoot past me.  I remember thinking "what's the use in saying anything – no one would believe me".  It was horrible and very, very lonely.
As far as the loud banging, scraping, shuffling on the floor and such…they were things that everyone in the family experienced, but as to the things that I saw…I was completely alone in that. I don't know why it was easier to explain away things like 'bumps in the night' than unexplainable things that are seen, but I suppose they all thought it a bit too far fetched.
My marriage was starting to experience a lot of strain, as I was waking my Husband 6 – 8 times in a week, sometimes 2 or 3 times in a night screaming in fear of these 'things' I was seeing.  My Husband had real concerns for my mental health and my Doctor prescribed anti-depression medication. This did nothing at all to dissolve the waking horrors…but it did help me cope with the emotional stress of it all.
You say that you actually saw a dark, shadowy figure in your home. Can you describe this for us, what actually happened, and if you believe it to be a ghost or a shadow man?
I was pregnant with Hannah at the time and it was raining that night.  I remember waking to the sound of our little Maltese dog whining outside.  I rolled out of bed and made my way to the family room at the back of the house.  I opened the back door and leaned down to dry her off with a towel.
The house was still dark except for the light coming from the spare bedroom which was just off the main lounge and I heard footsteps shuffling up the hallway and thought it was John coming to check on me. As I stood up, expecting to see him, I saw, instead, a tall man shaped figure that was about 7 foot tall, as solid pitch black as the darkest shadow and was completely devoid of light.
I stood there glued to the floor in absolute disbelief at what I was seeing, and in complete fear that should I move or make a sound, it may turn its head and see me.
I just stood there and watched it walk into the bedroom and then just disappear.  Once I saw it gone, I screamed at the top of my lungs for John.  He came bolting out of bed and saw me standing there shaking.  I asked him to wait a moment while I checked the room and to my horror saw nothing there.
Do I know what this Shadow thing was…No. I have been tempted to ask a Psychic or Medium for answers, but then I'm not sure I really do want to know.
You eventually moved home. Did you move because of the haunting?
Mainly yes. We had lived there for 4 ½ years and the feeling in the house became so oppressed not one of my family members were happy.  Everyone hated living there and my Husband was sure I had lost my mind.
I don't think John really believed what was happening, until it started to happen to him.
We were in bed one night, when I was awoken by 2 hard taps on my head.  I woke and annoyed – asked my Husband why he hit me.  He replied that he didn't hit me and that I was the one who hit him…once and hard on the head.  Yeah, that was weird.
Then only 2 nights later, he woke me asking if I had heard 'that'
Asking what 'that' was – he told me that he had woken to the sound of a high pitched cackle, right near his ear and he said it had sounded so evil and that he felt from this laughter that it 'somehow' knew us and was mocking us.  He couldn't explain that away and was clearly shaken by it. Then our 2 year old toddler would wake up screaming and come running into our room.  She knew the word scary and that's all she said.
John could see that she was genuinely scared of something and drew the line.  It wasn't long after that, that we made arrangements to move. We had decided that we would start packing now, then when we found a place to go to, moving wouldn't take as long.
One night, John and I were moving our mattress from our room to the Family room and we were followed by the sound of scraping along the walls (as one would drag fingernails along a wall).  By now, I think we just told ourselves it was rats to give ourselves some kind of comfort.
But it followed us all the way from our bedroom to the Family room at the other end of the house and that was followed by the sound of a dragging-slide…thud.  Dragging-slide…thud.  Dragging-slide…thud.
We stood in the family room and looked at each other.  Making our way back to the bedroom, the sounds followed. So we went back to the family room to see what would happen and it followed us again.  As we looked at each other John asked "What's that?"  And I'm like – I so don't want to know. Then we heard the most awful, screeching sound.  There was scuffling, banging and then that sound again…it was the creepiest sound I had ever heard.  It didn't sound anything like an animal or person or anything I had heard before.
The screeching made us extremely fearful as it made us feel very threatened and it felt like it intended malice towards us.  My Husband and I bolted back to the bedroom.
We stayed in the bedroom for a moment when we heard the scraping and shuffling again.  In a burst of courage I lunged out of the bedroom, into the hallway, planted my feet and screamed at the top of my lungs "In the name of Jesus Christ, get out! Get out of my house now!"
It didn't like that and we heard banging and crashing against the walls as it sounded as though it was running towards us.  We heard a crash in the ceiling, a loud thud onto the roof of our shed outside and then scurrying into the bushes outside.
We just stood there looking at each other in disbelief.  There was no explanation for what had happened and John was convinced something was going on.
Has anything unusual happened since you moved out of that property?
Not to me, no.  I'm glad to say that I've never had anything wake me up, nor have I heard or seen anything that makes me feel uncomfortable in my own home. Our daughter, who is now 3 still, wakes up at night saying that she's afraid of the 'scary spider who is a man'. It does concern me, but don't really know what to do about it.  We normally have her in our bed and try to dissuade her fears as best we can.
What would you say to those who don't believe or feel they need proof to believe your story?
I used to believe a whole lot of stuff that seemed to be quite cemented and black and white. And I used to think I had all the answers to a whole range of topics.  But I have now come to appreciate that only God really knows the answers to things still left "unknown" and that maybe I'm not meant to have all the answers.
Some things just are!
I've been humbled by my experience and have been taught that things aren't always as we think, perceive or make them out to be. People are welcome to think whatever they want.  I'm not out to persuade anyone to believe anything.  Just telling my story of what happened in the house we lived in.
Thank you, Melissa, for sharing your story!